Complete distro list
The list is changing from week to week so ask me before an order. Scroll down for addresses.
7" EP – 1500Ft (3E)
ABLACH: Demo 2008 Plus One (grindcore, yellow vinyl) 1x
BOMBATÖLCSÉR/CARL GUT split (grindcore) 3x
BOOT DOWN THE DOOR: s/t (hardcorepunk) 1x
CEMENTORIO SHOW: Inercia (fastcore-pv) 1x
DOWNFALL: Not Your Fault (old British hardcorepunk) 1x
EBOLA/GRUMO split (grind-noisecore, Italy) 1x
ENDWARFMENT: World Downsfall (grindcore) 1x
ENTRE REJAS/RUPS BAND split (hardcore, punk) 1x
FARAWAYTOWN/DIRTY DEFLECTOR split (punk, experimental) 1x
FESTA DESPERATO: Alergie (Czech crust) 1x
FOO FIGHTERS: Low EP (grunge) 1x
FZTFWRD/JETJAGUAR split (speedcore/harshnoize/powerelectro) 1x
GRINDCORPSE/ASSCAVERN split (grind) 1x
HARD OFF/1BOMB1TARGET split (unconventional harshnoise-drone mix) 1x
KOBRA XI/FIRE WALK WITH ME split (slowsludge vs fastgrind) 1x
MATKA TERESA/SAKATAT split (grindcore) 1x
NO CHANCE FOR CHANGE: s/t (French punk in British way) 1x
NOISE TORTURE: Noise Beat War Punk (d-beat rawpunk) 3x
SHRINE: Aether (death metal/sludge) 1x
WORD MADE FLESH: s/t (punky rock and roll metal) 1x
WUZOR/OPAQUE split (atmospheric-noise, neo-post hc) 1x

CDr – 500 Ft (2E)
80-AS ÉVEK PUNKVÁLOGATÁS VOL I-II (2 CD bootleg comp: Kretens, Modells, Fals, Spenót, etc) 6x, 1000,-
DAILY LIFE SUCKS: Last Six Minutes of your Life (old school grindcore) 2x
NAPALM DEATH: Demos ('85-86 Hatred Surge/FETO demo bootlegs in DVD case) 5x
SEPULTURA: Rehersal Demo 1986. (bootleg including a Slayer cover, DVD case) 5x

CD – 1500 Ft (5E)
ATROFIA CEREBRAL: Estirpe Inmunda (noisecore) 2x
DON'T NEED SOCIETY: Álomvilág (modern hc-metal) 1x
GFT/DZIECIZBECZEK/SZKARLATYNA split (thrashcore-hardcore, digipack) 2x
HUMAN ERROR/PSYKOANALIISY split (crust, digipack version) 4x
KRAMPÜS: Mental Holocaust (grind-death) 1x
MIERDA HUMANA: Nulidad Existencial (Peruvian noisecore) 3x
NAPALMED: Up to the Ears in Tinnitus (noise-drone) 1x
PARTIJA: Bocctabzine iz Zada (crust, digipack) 1x
THE DEVILS REJECT: Nuke us Good (punk) 2x
YOG SOTHOTH: Demo & Rehearsal 1988' (old peruvian noisecore) 2x

PRO CDr – 1000 (3E)
ANARCO VOMIT NOISE/ATROFIA/AUDICION/SINDROME DO OIO split (noisecore) 1x
ABORTION HOLOCAUST/LAST VIGIL/STINKHEADZ/ROOTS OF TORMENT/ FETAL MUTILATION split (goregrind-brutal death) 1x
LAND OF NOISECORE VOL.1 (6 way international noisecore split) 1x
MADNESS/MISERABLE ABSENCE OF HARMONY/ AUDICION IRRITABLE split (noisecore) 1x
O.O.O.O./SYPHILIS NON METAL split (experimental, noise, DVD case) 2x
REZEEGTNUK/STALLONE NOISECORE/EDDIEXMURPHY/DUSTBIN/WOMBAT SIMOGATÓ split (noise/noisecore) 2x

TAPE – 500ft (2E)
ANTI-BONANZA (cult bootleg dubbed on Ákos cassette) 1x
DAILY LIFE SUCKS: Last Six Minutes of your Life (old school grindcore) 5x
GLAUKOM SYNOD: Vampires and Gorgeous Throats (sick and brutal industrial) 5x
MADRE COCA/SETE STAR SEPT split (noisecore-grind) 1x
NEKRO RUMPUS: Blessed By Morbid Maggots (primitive DIY black noisemass) 1x
REPULSIONE/TAKASHI OHKAWA/RECHARGE DECHARGE/ORGASM DENIAL split (noisecore-grind) 4x
SHERIFFGYILKOS/POSTMORTAL MASTURBACY/VÉRESGYÁSZ split (grind) 5x
SHIKABALA/UNCLE GRASHA'S FLYING CIRCUS split (experimental noise ambient) 2x

PRO TAPE/PRO-PRINTED TAPE - 800 ft (3E)
AMORITE: Invisible Fire (old school death metal) 1x - 900ft
ASMODEUS: Life? (Malay punks play old heavy metal) 1x
ATOMGEVITTER: Thrash Ritual Discography Cassette (thrashcore) 1x
BAMBULKYNE, DOBRODRUZSTVA AND THE WRATH F GRANDPA JOSEPH (crossover-grind) 3x
BLACK BLEEDING: A Bright Future (death metal) 4x
BLACKMAIL: Sound of Death (crust) 1x
BLIGHT: Thrashviolence (thrashcore-powerviolence aggression) 2x
BRAINRUIN: Інформаційна брехня (Kiev hardcore) 3x
CALF/UNCLE GRASHA'S FLYING CIRCUS split (noise) 2x
CRUELIST: Echoes (dark, heavy punk) 2x
DESTRUCTION: Discography 1998-2011 (far-East melodic punk, not the thrash band!!) 1x
DISEASE: We Lose Everything (Macedonian Disclose rawshit) 3x
DRENCROM: Banished From Sanity (thrash metal) 2x – 900ft
EBEK 30ADJA: s/t (hun punkrock, 1000 ft) 1x
EDDIE X MURPHY: Saturday Night Live (noise) 2x
EVIL SPELL: Antisocial Satan (true thrash metal) 1x
EVIL SPELL: Necrology (true thrash metal) 1x
HARSH SUPPLEMENT/NAPALMED split (noise) 1x
HUMANDEADENDS: Demo 2014 (crust apocalypse) 1x
INHALATOR: Fájdalom Színház (thrash metal) 1x
KAKISERIBU: Manusial (d-beat sludgy crust punk) 1x
KANCHENJUNGA: Tea Spoon of God (Japanese blacken' doom/noise) 4x
KORUBO: Neexestujici Leta Pane (crust) 1x
KYLIGA DALEN: Worship the Beat (d-beat) 3x – 900ft
KYLIGA DALEN: Sátánizmus (New album!!!) 3x – 900ft
MALUM: Cultus Diaboli (black metal) 1x
PAGAN MEGALITH: Viharjárás (Miskolc black metal) 1x
PANDEMIC OUTBRAKE: Rise of the Damned (thrash-crossover) 2x
PRINCEPS DAEMONUM/HELL ICON split (black metal, colorful booklet) 2x – 900ft
REAKCE NA ZMENU: Demo (chaotic CZ fastcore-grind) 1x
RELICATION: Utterly disconnected (Old school metal like old Godlesh, Voivod) 2x
RETORZIÓ: Támadás 98-ból (thrash metal) 1x
ROGERNOMIX: South East Asioan Tour (New Zealand punk) 1x
ROVINA: Venganza! (primitive grind chaos from Italy) 1x
SERAPHIC DISGUST: AltarCunt (death-black) 1x - 900ft
SHITNOISE BASTARD / PISSDEAD split (grind vs noisecore) 1x
SKIZO: #1 (Eger hardcore) 1x
SOLUS/VRAG split (depressive black metal) 2x - 900ft
TASOGARE BANCHO: Discography (Japanese noise/shitcore discography) 2x
v/a NOISE CAVE NA ZIZKOVSKE NOCI (noise, drone, experimental, ambient compilation) 1x
VIIMEINEN KOLONNA: Aistien Juhlaa (Finnish hardcore) 1x
VIOLENCE: Complete Control (old-school punk) 1x
WARSORE: Violent Swing Discography (disc. Tape of this cult grind legend) 1x
YGFAN: Köd (black metal) 1x - 900ft
Ширево: Demo (hardcore punk from Kherson, Ukraine) 1x

Fanzine
BLAST #3 (grindcore & death metal, Hungarian written) 1x, 1500 ft (5E)
ENTORNO DEFECADO #1 (Peruvian photozine of dump, industrial waste) 2x, 1200 ft (4E)
ENTORNO DEFECADO #2 (Peruvian photozine of dump, industrial waste) 2x, 1200 ft (4E)
NOISE AND DIRT #1 (A5 rawpunk zine from Ukraine in English) 1x 500ft (2E)
RECICLAJE INDUSTRIAL #1 (Peruvian photozine of dump, industrial waste) 2x, 1200 ft (4E)
SWINGKID #3 (A5, colorful, exotic bands from Africa, Nepal, with comp. CD) 3x 1500 ft
UNO #1 by Alx (cut and paste artzine from Italy, thrash graphics, etc.) 2x 500ft (2E)
Own releases:
APOPOSIS/AGATHOCLES split (thrashcore vs mincecore) 25x
EGER HARDCORE compilation tape (hardcore comp from the town of Eger) 40x, 1000 ft
JACK/METH LEPPARD split (grindcore!!!!)30x 800ft (3E)
MASCHINENSTURM #1 (thrashy artzine, collages, graphics) 50x 500ft (2E)
POSTHUMAN #9 (English written, A5, LAST COPY) 1x - 600ft (3E)
B-612 fanzine (the twisted fairy tale of The Little Prince in English) 15x - 500ft
DIN-ADDICT: Neurosexual Deformation tape (grindcore) 10x – 500ft (2E)
WOMBAT SIMOGATÓ HAPSIK tape (absurd cyber-noisegrind projekt) 9x – 500ft (2E)
ANOTHER WAY: Az Idő Rövid Története (fastcore LAST COPY) 1x - 800ft
PH UNDERGROUND COMP. VOL I (DIY compilation from 2008.) 10x - 500ft (2E)


Click on to see in original size!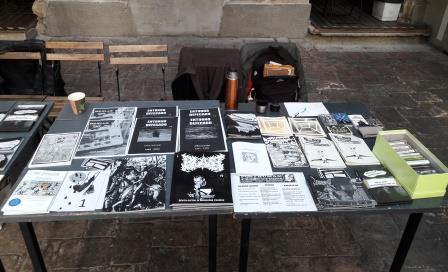 Contact - Order
e-mail: posthumanzine@gmail.com
Ask for postal address in e-mail!!


Write me before you wanna trade or send something! You can send me money in a well-hidden pack (via post) or via paypal.

Traders are welcomed but write first!